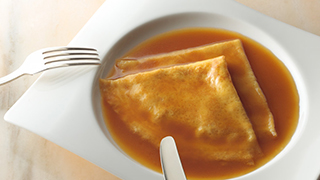 It All Began with Crepe Suzette
The moment a crepe is flambéed, blue flames flicker and customers' hearts begin to pound with excitement.
A crepe suzette is a sweet that will bring a smile to anyone's face with a single bite.
Our origin lies with a plate of desserts full of the happiness, joy and wonder that fascinated our founder.
From now into the future, we will continue enriching lives, delivering delight and offering as many heart-pounding moments as possible through our sweets.
We are SUZETTE Co., Ltd.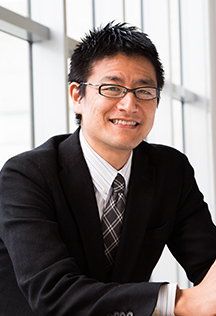 Offering Delight and Wonder to as Many Customers as Possible through Our Sweets
Our history began with Henri Charpentier, a little coffee shop that was born in Ashiya City, Hyogo Prefecture in 1969. At this little coffee shop, we flambéed crepes cooked lightly in orange juice using Grand Marnier. The flickering blue flames sent many of our customers' hearts aflutter, lighting up their faces. Just one of our sweets could make anyone smile, bringing them joy. That powerful emotion became the reason for starting the company. It is also the unwavering origin of the sweets we make that remains no matter how the times may change. For us, making sweets means producing goods and creating enthralling events at the same time. No matter the place or the time, nothing calms us and makes us smile as easily as sweets. There is no generational, situational, linguistic or national border when it comes to enjoying sweets. We will continue developing new offerings and expanding our ideas for creating enthralling events through our sweets every day until we achieve our goal of becoming a universal brand loved throughout the world in 50 or 100 years.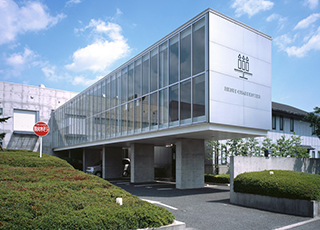 SUZETTE Co., Ltd.
Founded in Ashiya City, Hyogo Prefecture in 1969, SUZETTE Co., Ltd. started operation as a coffee shop selling unbaked takeout cakes. Today, the company makes and sells baked sweets and unbaked cakes and operates coffee shops under its two pastry brands, Henri Charpentier and C³ (pronounced "see cube"). The company uses the former brand for its broad range of sales channels, including in department stores, and the latter brand for shops in or near train stations. Since its business foundation, SUZETTE Co., Ltd. has adopted an integrated in-house production system that covers operations from product planning to sales, among other advanced undertakings, such as brand building and the manufacture of sweets on an OEM basis. The company opened its first shop in Singapore in 2014 with the aim of transforming itself into a universal brand spreading Japanese pastry culture to other parts of Asia, Europe, North America and the rest of the world.
Company information
Name

SUZETTE HOLDINGS Co. Ltd.

Representative

Goki Arita, President and Representative Director

Establishment

January 1969

Inauguration of business

April 2, 1969

Head Office address

South Building, Harbor Studio 43, 5-16 Kubocho, Nishinomiya City, Hyogo Prefecture 662-0927 (Registered Head Office address: 7-10-101 Kinmitsucho, Ashiya City, Hyogo Prefecture) [Directions]

Paid-in capital

100 million yen

Number of employees

422 (as of April 2021)

Sales

24,900 million yen (results for the fiscal year ended September 30, 2019)

Business description

manufacture and sales of pastries, operation of coffee shops
and other businesses incidental to those stated previously

Subsidiary

SUZETTE Co., Ltd.
STUDIO SUZETTE Co., Ltd.
SUZETTE INTERNATIONAL Co., Ltd.
back haus IRIE, Ltd.
  Flamme Bleue Co., Ltd.


Offices

Harbor Studio 43,

5-16 Kubocho, Nishinomiya City, Hyogo Prefecture 662-0927
(telephone number: 0798-36-8700, facsimile number: 0798-36-8514),

Yokohama Riverside Studio,

2-1-1 Kita Shin-Yokohama, Kohoku-ku, Yokohama City,
Kanagawa Prefecture 223-0059
(telephone number: 045-532-1171, facsimile number: 045-532-1173)

Numbers of shops

96 Henri Charpentier shops (92 in Japan and three overseas)
and 43 C³ shops (as of May 1, 2021)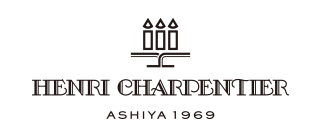 Henri Charpentier
Henri Charpentier is a brand that evolved from a coffee shop in Ashiya City, Hyogo Prefecture. This brand is the origin of SUZETTE. It commands a high level of customer support, mainly at department stores across Japan, with its unbaked takeout cakes and baked sweets for gifts. In addition to department stores, Henri Charpentier has a broad range of sales channels, including street-level stores centered on coffee shops, service sites for corporate customers and an overseas branch.
Aiming to Be the Best Financier in the World
People think of financiers at the mention of Henri Charpentier. In April 2015, Henri Charpentier was recognized as the global leader in terms of the number of financiers sold. We will continue our efforts to make the best financiers in the world that no competitor can imitate, using only the finest ingredients.
Development of an Original Fermented Butter
We are developing an original fermented butter so our customers can enjoy the faint aroma, refreshing sourness and full body of raw milk from carefully chosen milk producing areas.
Special Attention Paid to In-House Almond Grinding
We grind two types of almonds, Marcona almonds, known as the "queen of almonds," and aromatic fritz almonds, blending them in-house just before mixing them into the dough to bring out their aroma in the best way.
C3
Born in 1987, C³ (pronounced "see cube") is a brand named after the three Cs – coffee, cheese and cacao. The brand goal is to realize the creation of sweets that everyone will want to taste and share with others each and every day, sweets always at people's sides and that can bring happiness.
Forever Serving Our Beloved Tiramisus
We use carefully selected ingredients from all over the world in our tiramisus, which our customers have loved since they were first introduced. We use our original, one-of-a-kind mascarpone, coffee beans with a rich aroma and creams that melt in the mouth. We spare absolutely no effort to ensure a delicious taste